The potential of macrobrachium rosenbergii:
( VietNam's aquaculture) Thanks to the success of macrobrachium rosenbergii raising in rice fields brings a high efficiency, sustainability, currently, Macrobrachium rosenbergii have dominated the shrimp- model.
From 2010 onwards, by earning 10-20 minilions VND per ha , People who live in Camau, especially Thoi Binh ,U Minh and Tran Van Thoi district realized the opportunities as well as the potential that macrobrachium rosenbergii brings to them. From then on, farming's experience and density have been improved significantly that have helped the productivety and the income of local people increase continueously reaching at 50-100 minilion VND. And, macrobrachium rosenbergii raising in paddy has become a sustainable model.
Mr Nguyen Van Khoai, from Bien Bach district, Thai Binh province stated that " the combination of macrobrachium rosenbergii raising and crops is the most effective method, brings the income up to 30-50 minilion VND."
Many experienced households is raising shrimps with density of 2-4 per m2, feeding food from available source in shrimp square, cassava, coconut or rice …. Mr Tai, a shrimp farmer said that " with 50.000 of breeds, it will take nearly 5 months to reach the average quanlity 30 shrimps/kg. The remaining time is about 1 month, so this year can reach 1 ton of commercial macrobrachium rosenbergii.With the curent price is 140.000 VND/ kg, the profit above 100 million VND is absolutely possible."
Mr Nguyen Hoang Lam-head of Division of Binh Thoi district's Agriculture and Rural Development stated that " thanks to the high efficiency of the model, the farming area has increased from 3ha in 2010, 1.222 ha in 2014 to 7.029 at present. Currently, this model is well-developed and about to harvest.According to the record, this object will bring high productivity and the interest is increasing than that in 2014."
Mr Chau Cong Bang- Vice President of CaMau's Ministry of Agriculture and Rural Development, said that "the rotational production model of shrimp and crop is the strength of Ca Mau. There are nearly 45.000 ha have performed this model throughout the province and macrobrachium rosenbergii will account for the great area in the near future, because this model is a sustainable model, high efficiency, less disease."
" In order to take advantages of this model efficiently, province is checking, adjusting, adding the planning properly. Along with that are the measures about irrigation, cultivation technique, breed, the quanlity of products, production association, branding connected to consumer market… Curretly,this is either of two main objects of the CaMau agricultural restructure project"- said Mr.Bang.
Those are the measures that local people of Ca Mau is heading towards for a higher crop yield and quanlity. Currently, local people performing the model of farming macrobrachium rosenbergii in rice fields are preparing to harvest, and have a traditional Tet holiday with full of happiness.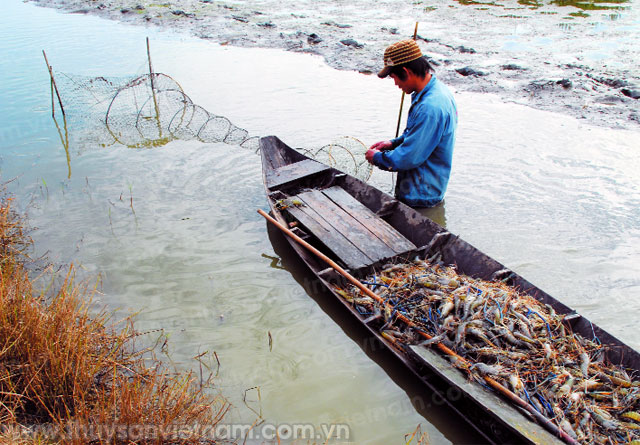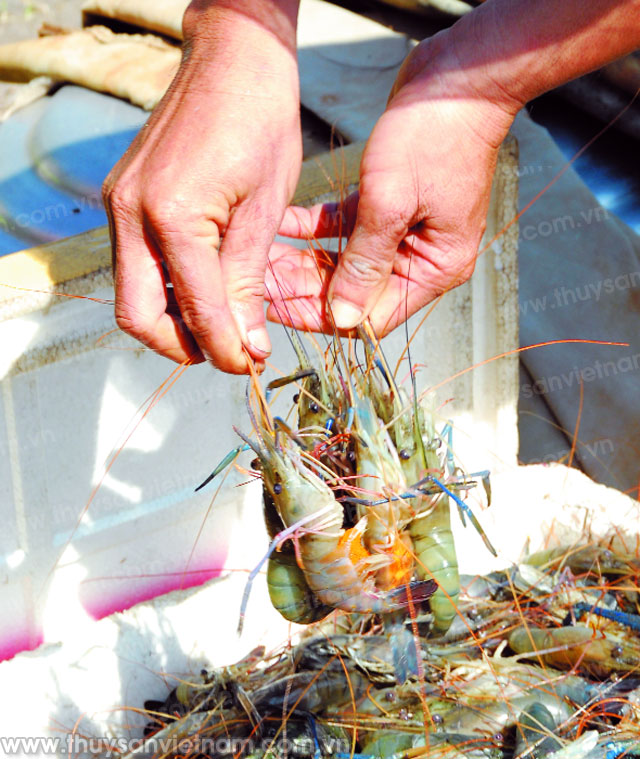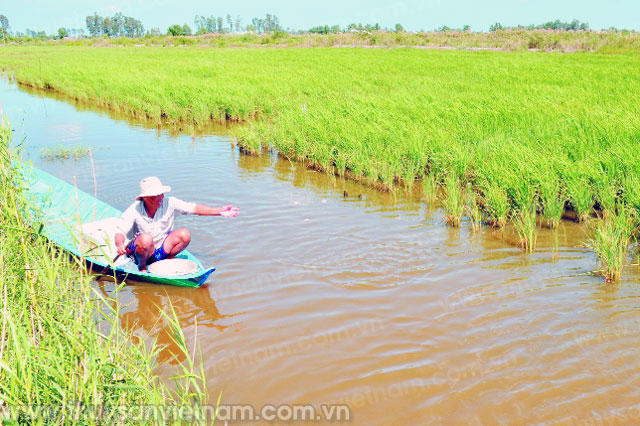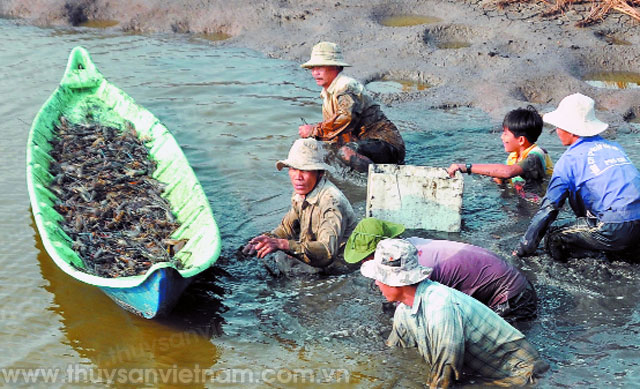 Some pictures of raising and harvesting macrobrachium rosenbergii in the Mekong Delta – Photo: Dieu Lu, Phan Thanh